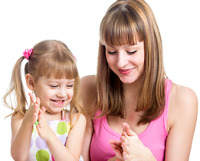 Your Child Has a Lot to Say. We Help Children Communicate.
Successful communication involves the ability to hear a message, process the information, formulate a response and deliver it in a socially appropriate manner. Our team of experienced, licensed pediatric therapists work with children from one year through middle school to achieve all aspects of this process.
"Meghan actually took the time to understand the whole child – his strengths as well as his challenges. Her team provided interventions tailored to his needs. Today he is thriving–engaged in team activities, reading above grade level, sought out by other children as a friend and playmate, and no longer afraid to try new things."
– Betty (mother to an 8-year old)
Treatment Where It's Best—for You and for Your Child. 
Call us Now!!! & Experience the Best Care you deserve.